COVID-19:
Agnes Scott College follows a mask mandate that requires all members of our community and visitors to wear masks. Masks are mandatory for everyone indoors and optional only for vaccinated members while outdoors.
Building:
Bullock Science Center
100 E Dougherty St #298
Decatur, GA 30030
We are meeting in the Baker Atrium.
Parking/Building Access: 
Please see below a picture of the Agnes Scott campus map. Our event will be located in building number 17. You will be able to park in the LOT located between building 17 and 8 on East Dougherty Street. You can also park in the Parking Deck labeled P2 on the map.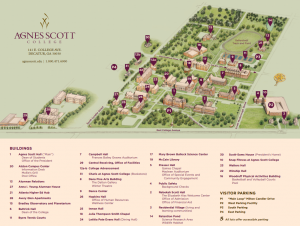 (click to enlarge image.)